QACVE Peer Recognition Awards 2022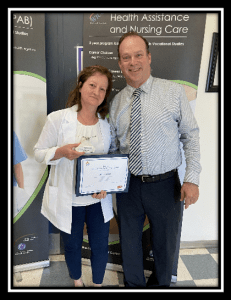 On May 19 2022, QACVE celebrated excellence with the Peer Recognition Awards, the celebration of exemplary Vocational Training teachers!
This award highlights personal initiatives taken by engaged teachers, awarded at our bi-annual Vocational Training Conference.
Criteria for identifying a candidate are to be an altruistic person who demonstrates empathy towards others, have a positive impact on individuals as well as groups, models a positive and collaborative attitude which rallies members of his/her workplace or community… and goes above and beyond.
This year, the winners are
 1st Place
Tassia Korbis
Health, Assistance and Nursing
West Island Career Centre
Lester B. Pearson School Board
2nd Place
Maxwell Barr
Automated Systems Electronics 
Rosemount Technology Centre
English Montreal School Board
3rd Place
Patrice Durocher
Automobile Mechanics
Access Guimond
Riverside School Board
The post QACVE Peer Recognition Awards 2022 appeared first on PROCEDE.